How to successfully drive your team's mission
Posted on: September 11 2019, By : Krishna Talekar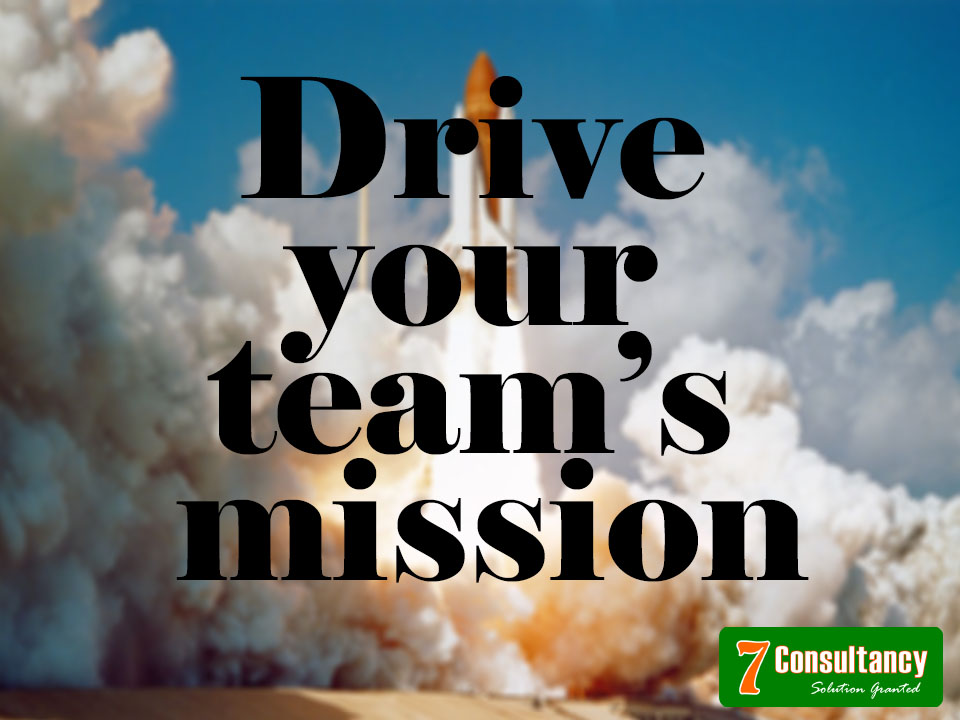 Mission driven companies are more innovative and better at retaining employees than businesses that don't prominent their senses of purpose. Why? Because when employees believes in company's motto and engage themselves in its vision, they became emotionally supporter for the brand's story. 7 consultancy is
best job consultancy in Navi Mumbai
who provides consultancy and helps candidates get more information about various companies mission.
Leadership can help to drive your teams mission. Great leaders are great communicators. Good leaders understand that communication is two way process in which they have to provide the direction to their team and listen to what they have to say. By establishing a true open-door policy that allows employees to voice their concerns easily, leaders can address problems before they can negatively impact the team's mission and focus on improving performance. Building a trust is also a very important key factor for successfully driving your team's mission. Trust is one of the most important elements of a healthy and productive team. Studies have even shown that trust between team members is directly related to performance. 7 consultancy is one of the trustworthy
placement agency in Navi Mumbai
. Building a trust is also done by practicing open and honest communication. As the level of trust increases within a team, employees work towards the mission more effectively and learn to celebrate their wins as a team.
When people understand how their efforts contribute to the company's mission, they're more likely to take pride in their work and devote more time and energy into their job. Providing feedback to the employees for their work is critical for their development and performance measurement. 7 consultancy is
best recruitment agency in Navi Mumbai
who provides the performance feedback to their employees and candidates. Without appropriate and feedback, employees don't have a clear sense of what they're doing well and what they need to focus on to improve. Research indicates that more than 70 percent of employees want to receive their feedback than they are currently get, which suggests that leaders across organizations need to do a better job of helping their team members to develop their skills and careers. To drive your team's mission successfully you also have to keep your mission at the forefront of all you do which means you have to remind yourself and your employees of the mission often. Make sure that all of your decisions align with that goal, and don't be afraid to update the mission statement as the company or industry evolves.
The most effective leaders don't just get results from team members, they inspire them to deliver superior outcomes. When employees understand how their efforts contribute to the company's mission, they're more likely to take pride in their work and devote more time and energy into their job. Highly engaged employees have lower absentee rates, and they're more likely to hold themselves accountable for their work and results. Effective leaders inspire employees to embrace the company's mission and work hard to contribute to its success. Poor leadership behaviors, however, have the opposite effect, often causing employees to leave the organization altogether to seek opportunities that better align with their personal values.
Recruitment consultancy in Navi Mumbai
are more mission driven about consulting and hiring candidates for companies. For mission-driven companies, their products will always adapt to change, because they're driven by solving the problem, not by selling the product. The product will naturally change along the way, because they have their eyes on the problem.
To successfully drive the team's mission it is important to prioritize the mission during hiring. It is important that candidate to know about mission at the time of interview so that candidate will have the basic idea of company's mission. Providing the right method also improve employees skills which they need to improve. There is 70:20:10 model in which 70 percent of learning happens through experience, such as daily task; 20 percent through conversations with other people, such as coaching and 10 percent through traditional training courses. Here the focus should be on greater cause so it is as important as knocking out menial daily tasks associated with individual jobs. But it is not carried out by only one person or one department – it requires company wide efforts. And for that you have maintain your teams focus on the big picture to make sure it looks the way you always envisioned (
hr consultancy in navi mumbai
).
Share this:
Comments :
Comment Not Available