Digital Transformation of the Consulting Industry
Posted on: September 07 2019, By : Krishna Talekar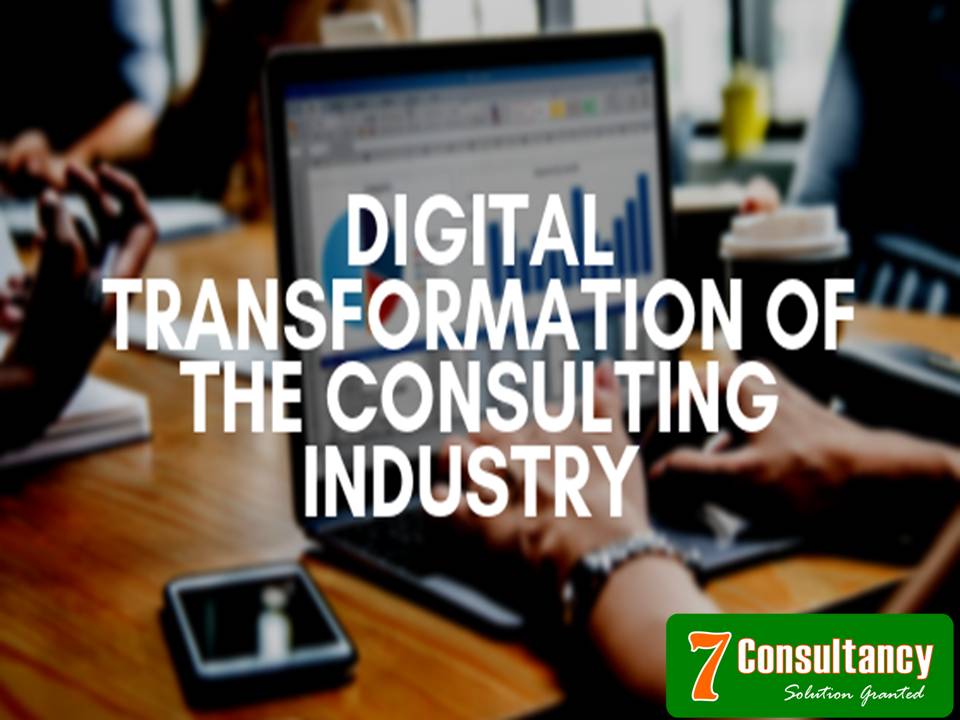 What is digital transformation?
Digital transformation is the integration of digital technology into all areas of a business, fundamentally changing how you operate and deliver value to customers. It's also a cultural change that requires organizations to continually challenge the existing state of affairs, experiment, and get comfortable with failure. Digital Transformation in
Consulting
is a policy development and strategy service that provide benefits to the company's manager, marketing officers and CEOs. New ways of learning introduce digital technology in their business for innovation and long-lasting effects on their operational models.
Benefits of Digital Transformation:
Data Collection – Artificial Intelligence technology has the biggest advantage in Data Collection. Its ability to process, handle and analyze massive amounts of data far more efficiently and faster than a human. This could provide more accurate insights into many areas of business including sales, operations, supply chain etc. Such information is very valuable for the
Consulting Firm
as it can be used to increase their offerings and services to clients as well as to enhance clients' ROIs.
Make more Efficient admin tasks - For a consultant, Processing routine paperwork which are client invoices, payrolls, progress reports etc., is probably the boring part of the job. Apart from that, it takes up a considerable amount of time that could put to a better use to grow a client base or create new opportunities for a firm. Robots are much more efficient when it comes to routine admin tasks. Robotic process automation, also known as RPA, devices can help companies with a wide range of admin tasks.
Improved productivity – By doing more efficient admin work, junior staff members workloads translates into higher engagement and productivity. The fact that they have more rewarding tasks on their plate, will also keep the junior staff members more motivated on their job.
Consulting Firm in Mumbai
already use the variety of tools which increase the productivity of staff.
It is foreseen that within the next years, the business and delivery models of consulting have to be re-designed and partly re-invented. It is inevitable that technology-based consulting solutions will gain more ground. This will result in the rise of importance of IT and associated qualifications, and the competition for talents in consulting will get even tougher than today. It is also predicted that the competition will get more intense because of digitalization and decreasing customer loyalty. To meet the clients expectation the Consulting firms must be ready to integrate aspects of strategy, process, and IT-consulting with design challenges. The clients will expect the consulting services to be unbundled and more adjustable, in other words, easier to purchase according to their specific requirements.
According to the recent poll by source global research among consulting industry clients, however the trend does not freeze out smaller players either. We can all agree that digital transformation of consulting industry represents a great opportunity for consulting firms, both internally as well as externally.
The global digital transformation market has almost doubled in size over the past few years. Digital Transformation Strategy Consulting market, is expected to grow at a CAGR of a more than 8.2% by 2027.
Top Consulting firms
like 7 Consultancy followed different strategies to deliver digital transformation projects, with a strong focus on how to best serve their clients externally more than how to embrace a digital culture internally. Deloitte was the first one to create a separate digital unit called Deloitte Digital, followed by Accenture Digital in 2013, and BCG Digital Ventures in 2014.
Thanks to attractive elements of the consulting job such as low risk, higher salaries, diversified work experience and fast career growth, firms are able to attract the best talents and allocate them to their digital transformation teams. On the contrary, traditional companies struggle to attract the best digital talents and often don't have the capabilities to implement a digital transformation without external help. For this reason, we see digital transformation as a massive opportunity for growth for consulting firms across the board, as businesses will have to fundamentally rethink their business models and processes to succeed. Given the magnitude of change that firms are facing in the form of digitization, client companies will be very selective in choosing their business partners and will be willing to pay high consulting fees to make sure their business doesn't get disrupted in the digital age (
Best Consulting Firm in Mumbai
).
First of all, every firm needs to find the best way to integrate digital expertise into their organizations, whether as separate or cross unit teams. Second, they will have to keep attracting new talents to increase the size of their digital teams, at a higher rate than their traditional hiring rate for strategy projects. Given the challenge of attracting talents organically, firms are seeking to bring in talent through Addition. Another critical challenge for consulting firms will be to create differentiation among firms, as they have assembled a similar set of assets and expertise. Finally, the biggest challenge will be the cultural chance that necessarily has to happen with a shift from a traditional business to a digital one, both for the clients and for the consulting firms themselves.
Digital transformation in the world of consulting, Technology has forced consulting firms to digitize their processes and operations to keep up with industry trends, and also to provide reliable, speedy and quality service to their clients.
Share this:
Comments :
Comment Not Available